Trend-setting tyre solutions for the demands of future-oriented mobility systems are taking centre stage at Hankook's presence at the IAA 2013. The optimisation of conventional vehicles with regard to tyres as well as studies for sustainable mobility that combine efficiency and eco friendliness will be focal points. In addition to premieres and innovations in the fields of green tyres, performance, safety and premium original equipment, award-winning hybrids design-concepts as well as a new generation of airless, almost entirely recyclable tyres are further highlights on the Hankook booth.
There is an increasing demand for innovative and smart solutions by suppliers to optimise vehicle efficiency within the automobile industry. In addition to safety and comfort, features like environmental-friendliness and sustainability are becoming ever more important. At the 65th IAA, September 12-22, 2013, in Frankfurt, premium tyre manufacturer Hankook will present its latest innovations, prototypes and trend-setting tyre concepts designed to meet the demands of future mobility in Hall 8, Stand no. F24.
A look into the future: Driving without air and the smart hybrid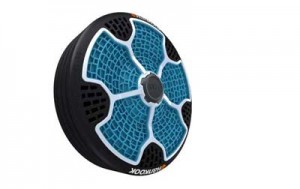 Aiming to keep losses to a minimum when converting energy, Hankook's engineers have reconceptualised the automobile tyre. With the Hankook i-Flex, the company presents the prototype of a non-pneumatic tyre that will help increase the overall efficiency of vehicles thereby improving their energy balance. The up to 95% recyclable i-Flex, made from polyurethane synthetics is manufactured in conjunction with its rim and is considerably lighter than conventional wheel-tyre combinations not requiring air as conventional tyres. Fuel consumption and noise emissions are thus to be optimised in the future while simultaneously increasing vehicle safety.
The Hankook eMembrane is another trend-setting tyre concept showcased at the IAA. The Red Dot Design Award Winner 2013 is based on a so-called Smart Hybrid design: By changing the tyre's inner structure, the eMembrane concept is capable of adapting the tread design and tyre footprint to the respective driving situation. For example whilst in eco-mode, the centre of the tread is raised and the contact area reduced, resulting in decreased fuel consumption with a corresponding reduction in rolling resistance.
Tyre premieres: Extended high-performance fleet and AA-tyre label
Sporting many innovations for the 2014 season, the tyre manufacturer has extended its extremely successful high-performance portfolio. The Ventus S1 evo² SUV - a street version of Hankook's UHP flagship derived from motorsports for the popular genre of sporty multi-purpose vehicles – will premiere at the IAA. In addition, the brand newVentus V12 evo² completes the premium manufacturer's sports performance line-up with a particularly modern, high performance retrofit wide-base tyre.
With regard to the European tyre label and its special, combined demand for environmental excellence and wet safety, Hankook introduces new AA-labelled versions of its high-end comfort tyre Ventus Prime² and the fuel-efficient Kinergy eco. They are already available in selected sizes for the upcoming European 2014 summer tyre season.